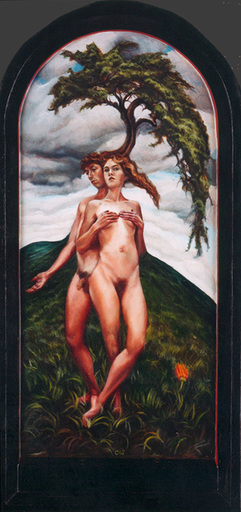 Not in the slightest bit timid, Cas Waterman's women are predominately warm blooded earthly creatures. Sometimes they show signs of awkwardness, as if the painter has caught them off guard, but this has obviously been set in scene in order to accentuate their bodies eroticism.
His use of colours remind us of the Pre-Raphaelites such as Edward Coley Burne-Jones and add to the dreamy atmosphere while the light high from above attracts our attention. Yet none of them are the perfect goddesses or decorative images of noble women we see in the romantic paintings of the 19th century. These women are alive and portrayed in such a way that there can be no doubt that the painter knows them personally.
Sometimes Waterman places them against a monochrome background, and sometimes they are set in a dramatic landscape or in a scene straight out of the knights of the round table. In this way they are drawn out of their mundane circumstances which focuses our attention on them even more. The use of interiors with marble, black and white tiled floors and arched rooms conjure up feelings from the past, which stands in stark contrast to the matter-of-fact 21st century. This causes a tension between direct bodily reality on the one hand, and timelessness on the other.
C. Waterman's nudes live in an enclosed and often intimate world existing in a cocoon of bodily warmth. Cut off from the banality and routine of every day life is especially visible in paintings such as 'Condition Humaine, where the horizon is so extremely curved that it could turn back on itself and shut the observer out completely. The frames are also part of the integral effect. Their design refers us back to times where the pace of life was slower and people had more time for one another.
Whether arched Renaissance frames or frames with neoclassical designs they all suggest an entrance through which you can step into a past inhabited by a woman of our own time.